Scots Palestinians tell their stories and their families' stories
May 8, 2023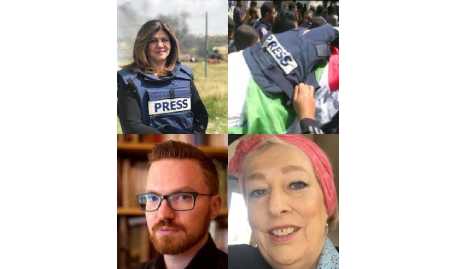 Commemorating Palestinian journalist Shireen Abu Akleh
May 9, 2023
Question and Answer afterwards with producer, Miranda Pinch, via zoom

Inspired by her mother (A Jewish refugee from the Sudetenland), who was horrified at what was being done to the native Palestinians in her name as a Jew, Miranda developed her passion for human rights.
In 2009 she spent 3 months in Hebron and the South Hebron Hills as part of an international monitoring team, working alongside Jewish human rights groups, as well as with Christians and Muslims.
She continued this work when she returned to the UK, with a focus on informing proper public debate by sharing facts about the history & context of the situation in Israel & Palestine.